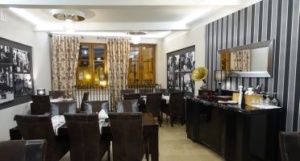 The idea of creating Pestka Restaurant was to form a unique place on the culinary map of Wadowice with its original vibe, tasty dishes, sublime taste, friendly service and pleasant interiors. We want to provide a modern climate for the Wadowice business, the administration and the local community. We will do everything we can to integrate the local society of Wadowice by creating environment and atmosphere for business and family meetings.
Pestka Restaurant is primarily Chef's authorial menu. The theme is the new uncover of polish cuisine with the elements of the European cuisine. The Chef recommends rabbit saddle in maturing ham with celery purée and Brussels sprouts and fried duck breast with plum-cognac sauce with scorzonera, red amaranth and pickled ginger. For fish gourmet we offer, among others, smoked trout sous vide with pea purée, chorizo, asparagus and shrimp glaze.
Except our specialties, in Pestka Restaurant you can try original desserts, starters, tasty soups, salads, pasta and dumplings. You will also find something for the little ones on offer. Moreover we have prepared an offer for organized groups, occasional events and business meetings.